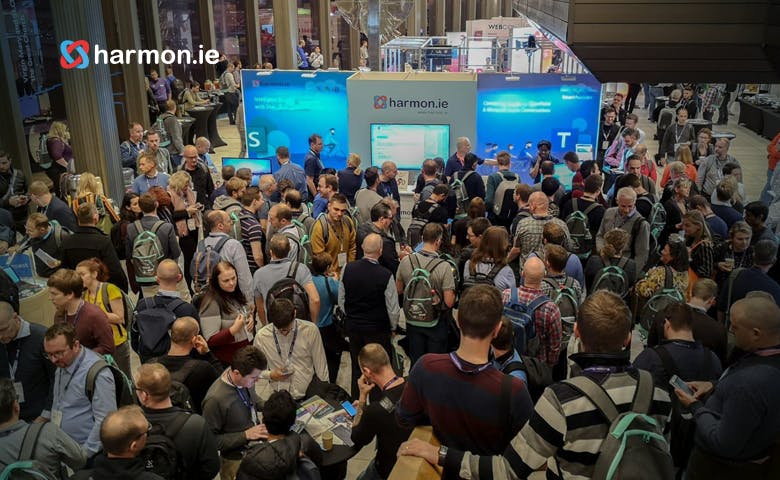 'Czech Out' harmon.ie at the European SharePoint Conference in Prague
The European SharePoint, Office 365, and Azure Conference (ESPC) is underway in Prague and harmon.ie is proud to be a Platinum sponsor of this annual event!  If you are at the event, come check out the harmon.ie stand to see what's new with the harmon.ie SmartAssistant™ - the innovative integration of Outlook with Microsoft Teams. This year's harmon.ie "Lunch & Learn" sessions featured guest speakers Daniel Stuch, Senior Project Leader Application Development and Rollout at Bosch, and Cassy Freeman, Digital Workplace Lead at Babcock Intl. Stay tuned for the videos where they shared their SharePoint journeys and harmon.ie experiences with the audience. And if you missed our Chief Product Officer David Lavenda's session on "The Real State of Teams Adoption…And What it Means to You," you can download the session slides here. While at the event, don't miss your chance to win an Apple 5 watch. Stop by the stand and register to win!
December 2019 | harmon.ie Team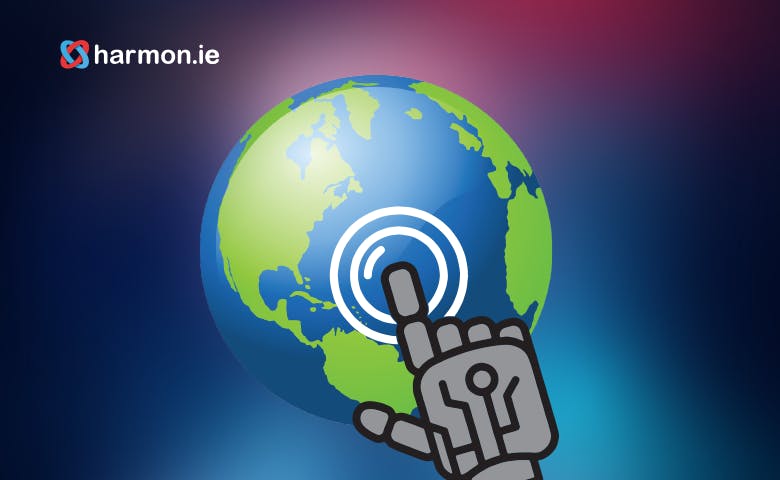 What's the state of play with artificial intelligence applications in the 'real world'?
Artificial Intelligence has been one of the most hyped technologies of the decade, with millions of articles, reports, blogs and conferences discussing the topic from every possible angle. But what's the state of artificial intelligence applications right now – especially when it comes to 'real world' uses?  While fully intelligent general AI remains a long way off, we have seen some impressive uses of machine learning, chatbots and even image recognition technology being released in the last couple of years. Much of the cutting-edge research is still at the academic level, but we have started to see artificial intelligence applications being launched by and used in narrower application in businesses. Let's look at some examples of how AI is being used in the 'real world'. Focused Artificial Intelligence applications are gaining ground in the business world  While AI often feels like it's something 'just around the corner', it has, in fact, already been used by thousands of businesses in one way or another. Indeed, 61% of businesses responding to one recent survey said they have used AI in at least some form – with natural language processing, machine learning and predictive analytics the most widely used technologies. Whether your company has deployed a chatbot on your website or asked analysts to churn your data through an advanced analytics tool, there's a good chance you've already used AI in some manner. But, when we talk about AI, most people are thinking of bigger artificial intelligence applications – things which profoundly change how businesses work. And, this is starting to happen – let's see how. 3 examples of 'real world' Artificial Intelligence applications Artificial intelligence applications can have a significant, positive impact on society and how individuals spend their days at work. Deployed correctly, AI can help improve almost any industry, and could add serious value to the global economy. Here are just three examples of how AI tools are being used in the 'real world'.   Loblaw: Canadian firm personalizes customer offerings Today's consumers have come to expect personalization. Whether it's entertainment brands like Netflix or ecommerce sites like Amazon, people want offers targeted intelligently to them and their tastes. However, catching up with the giants of ecommerce is a real challenge, but it's becoming easier as AI becomes more accessible. One such business is Loblaw – Canada's leading food and pharmacy provider: The firm connected its existing loyalty program with Microsoft's AI tools. Azure was used to store and process data. Using an AI algorithm, Loblaw could reorganize siloed information, anonymize, aggregate and then customize offers at scale. This let the firm start providing personalized customer offers in a way they never could before – and catch up with the market leaders in one leap. Milan graduate school of business (MIP): personalized learning with AI Imagine attending a college course which was completely tailored to your personal needs. No more attending classes about topics you already know well, no more re-learning skills you already have. Instead, you'd only focus on what you need for your future career. That's the idea behind FLEXA, an artificial intelligence application being trialed by Italy's Politecnico di Milano Graduate School of Business (MIP): Students sign into FLEXA when they choose to take one of the school's MBA programs, where they partake in a range of cognitive and skills tests, answer surveys about their current and future career plans, and other factors. Microsoft's AI services then create personalized learning pathways to help the student develop their skills and knowledge in the areas they most need – proposing anything from short one day courses to 6-month training programs. Each student is given access to a dashboard where they can review their strengths and gaps, and see how they are improving. Schneider Electric: increasing safety and reducing maintenance costs with AI Organizations working in the industrial sector must maintain enormous catalogs of mission-critical equipment out in the field. In the past, this required regular manual checks and tests – and if anything was missed, could result in risks to staff and the environment. Schneider Electric, a France-based industrial automation firm began using Microsoft's AI solutions to target this issue: They monitored an IoT enabled pump control using a predictive analytics solution. Oil and gas providers could use the solution to pinpoint equipment which needs repair. This saves substantial sums of money on maintenance, repair, worker and environmental safety and boosts profit. Nothing artificial about that While there's been a fair amount of hype about AI in recent years, the above three examples show how machine learning, IoT and similar artificial intelligence applications are having a real impact in business, education, and energy extraction, to mention just three industries. At harmon.ie, we see incredible potential for AI to help knowledge workers.  In the near future, harmon.ie will be providing new ways of bringing office-based staff the most relevant, meaningful and contextual information possible, using AI. The impacts of AI in the 'real world' are starting to be felt – and there's nothing artificial about that.   
November 2019 | harmon.ie Team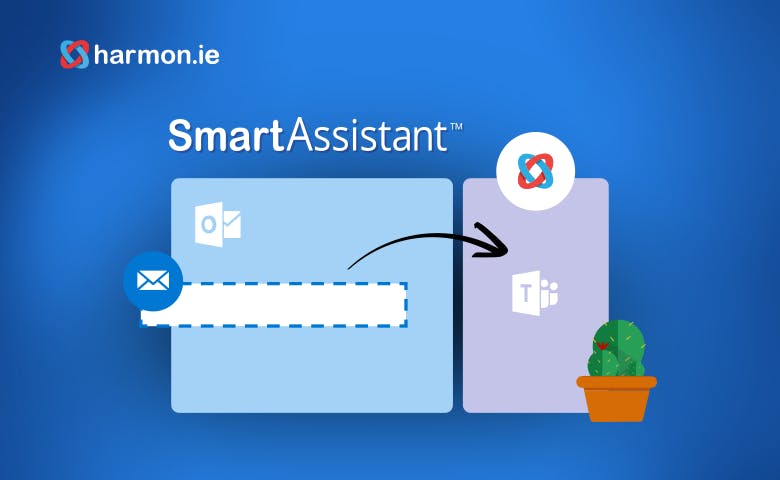 harmon.ie Launches World's First Solution to Connect Emails to Microsoft Teams
Microsoft Teams is taking the enterprise by storm, with over 50% of knowledge workers reporting they spend at least half their day using it, according to a new survey commissioned by harmon.ie. Teams is primarily intended for communications with colleagues inside your organization. Sure, you can invite outside guests, but for 'outer loop' communications, Microsoft recommends using email. But for business, you need to communicate with outside folks and colleagues. So, you use Teams for colleagues and email for outside communications?  Having  two parallel conversations about the same topic - which could be related to an important deal or project -  doesn't make sense, but what can you do? Now there's a solution, because today harmon.ie has released SmartAssistant™, the world's first product to link an organization's internal staff conversations and external communications in Office 365, by intelligently connecting emails, documents, and conversations in Teams. Yaacov Cohen, CEO and Co-Founder of harmon.ie explains why this is so important. "Knowledge workers are busy, and it's not practical to sync conversations in Teams with email, so discussions quickly become disconnected and people can't find the information they need to do their jobs. Usage of Teams is quickly becoming universal in the enterprise, so we're proud to offer the first solution to connect Teams conversations with Office 365 email, attachments, and documents, keeping efficient, productive communication easy and intuitive for knowledge workers."   Today's SmartAssistant release includes the following new features to connect email and conversations in Teams: Drag and drop emails and attachments from Outlook directly to a Teams channel, which saves the email to the Team's mailbox and saves the attachments to the channel's underlying files location (in SharePoint). Seamless Outlook/Teams transitions: After dragging and dropping content to a Teams channel, harmon.ie automatically launches the Teams app to that channel, so users can continue their conversations in Teams. For the first time, harmon.ie supports "in-place" record management out of the box; when uploading emails and attachments to Teams, emails are saved in Exchange and attachments/documents are saved in SharePoint. Automatic Team alerts: harmon.ie notifies team members when new email and attachment additions have been added to a conversation by posting the update in an Adaptive Card within the conversation. Descriptive Labels: When copying emails and attachments to Teams channels, users are prompted to apply harmon.ie's unique 'Descriptive Labels'. These labels describe the contents of emails and documents. Descriptive Labels use existing SharePoint metadata for documents and are used to apply corresponding 'metadata' properties to emails in Exchange. With Descriptive Labels, related emails and attachments remain connected even though they are stored in different repositories. Descriptive Labels are also handy for quickly searching for related content. harmon.ie "Teams" Outlook tab: displays all emails and attachments copied to Teams, directly in the Outlook sidebar. Users can then: o   Display emails and attachments previously added to the conversation from harmon.ie. o   Filter the list of emails by team, channel, or descriptive labels. o   View and edit emails and attachments using their native app (e.g. Word, PowerPoint, Excel). o   Notify team members about a saved email and/or attachment. Display favorite Teams and channels directly in the harmon.ie "Favorites" view. The release also enables users to drag and drop emails, attachments, and documents onto a drop target in the harmon.ie Favorites view.  Today's announcement is the first step towards harmon.ie's vision of simplifying the knowledge worker's daily experience in the Office 365 Digital Workplace.  Look forward to future announcements about how harmon.ie will extend SmartAssistant to exploit machine learning to augment employee decision making around information stewardship; to develop the future intelligent digital workplace assistant. Learn more at What's new in harmon.ie. To try the new harmon.ie SmartAssistant, click here.  
October 2019 | Ram Tagher