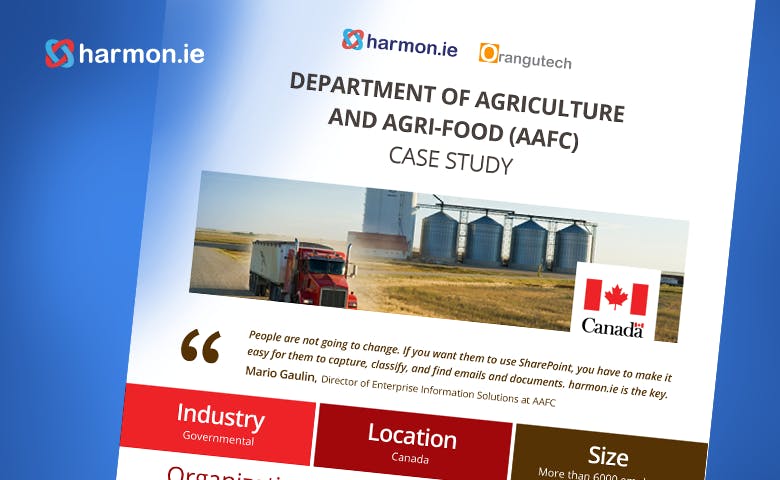 Canadian Department of Agriculture and Agri-Food Canada (AAFC) Reaps the Benefits of SharePoint, Using harmon.ie
The responsibility of feeding the people of Canada rests squarely on the shoulders of the Canadian Department of Agriculture and Agri-Food (AAFC). That is why the policies for governing the production, processing and marketing of all Canadian farm, food, and agri-products are so important. And that is why AAFC relies upon Microsoft SharePoint for managing policy documents and for collaborating with portfolio partners. Several years ago, SharePoint was tapped to replace an OpenText document management system. The move to SharePoint was part of a larger shift towards a Microsoft infrastructure and ultimately a migration to the Microsoft 365 cloud.  SharePoint is Great, But…. The move to SharePoint was promising, but AAFC still faced the following challenges. Document versioning chaos – too many versions of documents floating around created confusion about what was the latest/authoritative document. Saving emails to SharePoint – there was no easy way to upload important emails to SharePoint. Since many emails are really business documents that need to be retained, this was a big problem. Limited email inbox storage – with only several gigabytes of email storage, workers had to find a centralized location outside of Outlook to store important emails. Accurately tagging content in SharePoint – workers were often not compliant with tagging documents in SharePoint metadata because it was seen as unnecessary overhead. Bulk uploading of content to SharePoint – with many documents to upload, the overhead of tagging each document one by one was unacceptable to the worker community. harmon.ie to the Rescue AAFC selected harmon.ie to simplify employees' interaction with SharePoint. harmon.ie solves AAFC's SharePoint challenges by making it easy for knowledge workers to use SharePoint. Workers simply drag and drop emails and documents to a SharePoint sidebar in their Outlook window, and they are prompted for required metadata. Important emails are stored in a centralized location and tagged so they are available to colleagues. There is always one version of the latest document, and mailboxes are not overflowing. The Results The results were spectacular. "We ran a pilot and it was very well received. And then more and more people wanted to get licenses and we just decided to buy harmon.ie for everyone", says Mario Gaulin, Director of Enterprise Information Solutions at AAFC. Today, harmon.ie is used extensively by a diverse group of AAFC employees across many departments, to capture and classify documents and emails from Outlook and from Windows Explorer into SharePoint. Links are now routinely sent instead of attachments. By making it easy to accurately classify content, harmon.ie helps fulfill AAFC's business objectives; namely, coordinating policy and collaborating internally, with local, provincial, and federal agencies, as well as with partners. Gaulin sums up AAFC's harmon.ie experience: "People are not going to change. If you want them to use SharePoint, you have to make it easy for them to capture, classify, and find emails and documents. harmon.ie is the key." Mario Gaulin, Director of Enterprise Information Solutions The Future AAFC is rolling out harmon.ie to its entire user community as it migrates to Microsoft 365. This move will further external collaboration with constituents in the Canadian ecosystem. AAFC is particularly keen to explore the ability to auto-tag content using the newly-announced SharePoint Syntex. harmon.ie will be there every step of the way to help AAFC complete its critical mission.
October 2020 | harmon.ie Team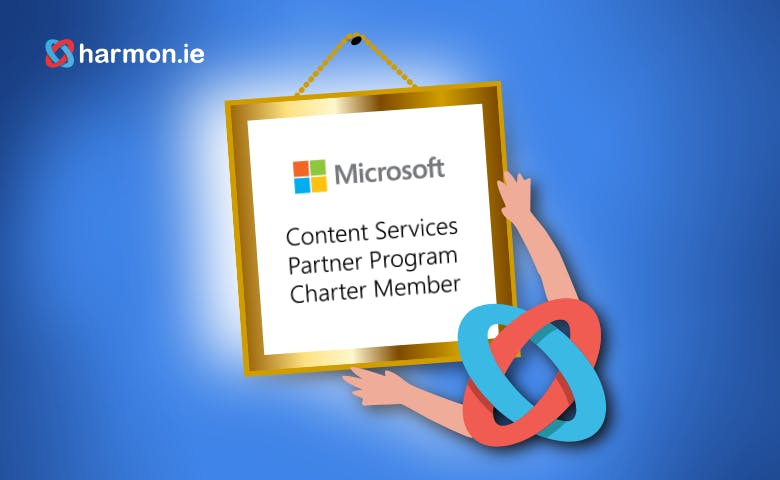 harmon.ie Named Charter Member of Microsoft Content Services Partner Program
The Microsoft Content Services Partner Program harmon.ie is proud to be selected as a Charter Partner in the Microsoft 365 Content Services Partner Program. Earlier this year, harmon.ie was admitted to the program as an Associate Member, so we are thrilled to advance to the prestigious charter partnership level so quickly. This year is a particularly auspicious year to become a Charter Member. With millions of people working from home during the current COVID-19 crisis, remote workers need to be independent and self-sufficient with technology like never before. While Microsoft Teams has become an important tool in IT's arsenal to keep employees connected with colleagues, suppliers, customers, and partners via virtual meetings and chat, workers continue to struggle to make the most of their Microsoft tools. For example, sharing content using Teams and SharePoint remains a challenge for most knowledge workers. Likewise, with people working remotely, it has become impractical to securely store documents on shared network drives. In response, many organizations have instituted a "mandatory SharePoint" program, requiring employees to upload important emails and documents to a centralized and secure SharePoint location. Helping workers capture and classify emails and documents in SharePoint and Teams is precisely where harmon.ie makes it easy for knowledge workers to do the right thing. Workers can simply drag and drop emails and documents from Outlook directly to SharePoint (and Microsoft Teams channels). "We are delighted to be selected as Charter Members of the Content Services Partner Program," said David Lavenda, Chief Product Officer at harmon.ie. "With the advent of SharePoint Syntex, capturing and classifying content in SharePoint has never been more important. With our advanced Search capabilities, harmon.ie is uniquely positioned to help knowledge workers easily find content using metadata. As such, we look forward to leveraging the partner program's access to Microsoft sales, marketing, and product resources, to help organizations realize their business objectives while maximizing their investment in Microsoft 365." About the Microsoft 365 Content Services Partner Program Microsoft launched the Microsoft 365 Content Services Partner Program to help accelerate customer success with Microsoft 365 Content Services, powered by Microsoft 365, Project Cortex, SharePoint, and SharePoint Syntex. The program is geared to support partners delivering solutions that make the transformation of content management practical and attainable. The Microsoft Content Services program recognizes and supports Microsoft's strategic partners throughout the expansion of their content services platforms. Partners in the program span the globe, and offer a broad range of software, consulting, training, and adoption solutions. Each strategic partner has been recognized for proven customer success in envisioning and delivering customer content solutions in Microsoft 365.
October 2020 | harmon.ie Team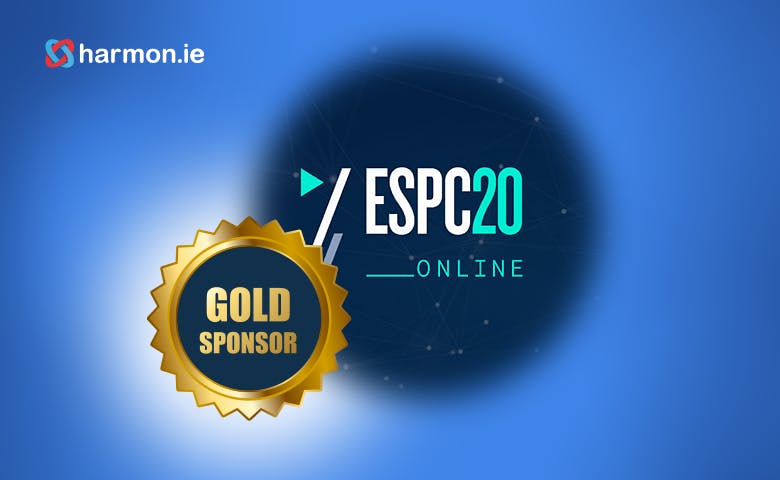 harmon.ie Gold Sponsor for European SharePoint Conference 2020
Preeminent European SharePoint Conference Takes Place Online This Week The European SharePoint Conference (ESPC), the pre-eminent European SharePoint event, takes place this week. Originally planned for Amsterdam, ESPC, like all other conferences this year, has gone online due to the COVID-19 pandemic. The event comes on the heels of Microsoft's announcement to allow a significant portion of its employees to work from home permanently, even after resolution of the COVID-19 crisis.  Microsoft, like many other companies, has come to rely upon remote collaboration tools. In Microsoft's case, the tools it uses are its own, such as Microsoft Teams and Outlook; these are the same tools helping millions of workers in other organizations stay in touch with colleagues and do business with customers, suppliers, and partners. So perhaps it's not surprising Microsoft took this bold step. It is prescient that this year's virtual SharePoint Conference will focus on how best to take advantage of new and exciting capabilities in SharePoint and Teams to be productive in the modern Digital Workplace. This is the new Digital Workplace, which has employees huddled around their kitchen and dining room tables, trying to be productive while dealing with background distractions. And two of the biggest challenges for people working from home are finding information and being self-sufficient with technology.   That's why harmon.ie is proud to be a Gold sponsor of this year's ESPC Conference. harmon.ie continues to innovate by delivering solutions that make it easy for knowledge workers to capture, classify, and find important emails and documents within SharePoint and Microsoft Teams. With more people working from home than ever, harmon.ie's solutions are even more important today, since they enable people to be self-sufficient and productive, by making it easy to find and share important emails and documents quickly. harmon.ie – A Long Time Sponsor of ESPC This year is the tenth straight year that hamorn.ie is sponsoring the ESPC Conference. We are excited to participate in this event and are proud to contribute to the SharePoint ecosystem by enabling the many millions of knowledge workers take advantage of their Microsoft tools to get work done. With over 75 million people now using Microsoft Teams, it is more important than ever for remote workers to have access to tools like harmon.ie that enable them to be independent and self-sufficient. And while we will miss the famous ESPC Gala party and talking with folks during the exhibition floor hours, we look forward to the keynotes, the online sessions, and hope to see all our ESPC friends in person at the 2021 Conference. Learn more about the European SharePoint Conference here.
October 2020 | harmon.ie Team