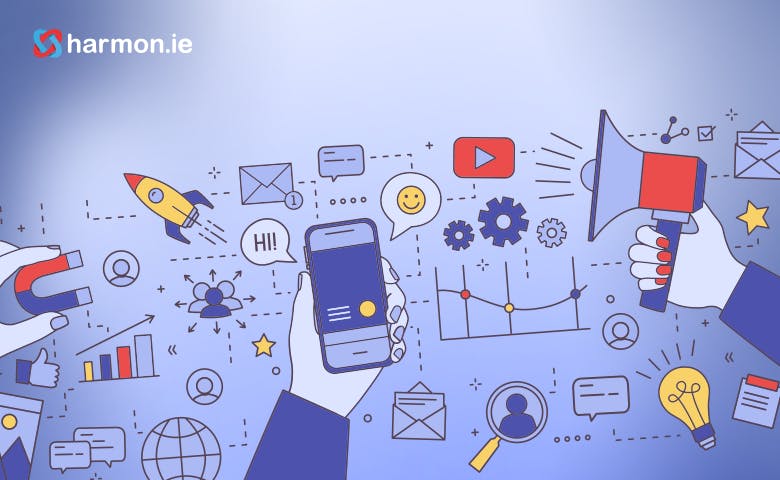 The Role of Email in the Post-Pandemic Digital Workplace
As we clean off the kitchen table and get back to work from a much-needed holiday respite, it is time to re-assemble our 'at home' office and kick off 2021 with a resolution to make this year even more productive than last year. With the COVID vaccine rolling out at what is predicted to be a faster-than-anticipated pace, it won't be long before we will regain (at least some) freedom for face to face interactions. Make no mistake, we won't be sweeping everything we learned during 2020 under the rug and going back to the 'old normal.'  During 2020, in an effort to remain successful, workers and organizations learned to adapt. Some major changes that occurred in 2020 include the following: Many people upgraded their home Internet connection, under the FCC's "Keep Americans Connected Pledge," which was largely supported by Internet Service Providers (ISPs). People upgraded computing equipment and work environments, even renovated their homes to make working from home a more comfortable option. In fact, US home renovations were up almost 60% in 2020, at least partially to support 'work from home' arrangements. Organizations realized huge savings in a reduction of office space, utility costs, taxes, travel expenses and many other costs 'At home' workers realized enormous cost and time savings by eliminating commuting. One industry survey found that the average employee saved $4000 by working from home, while another estimates a daily savings of $758M in the US alone. However, it is not all good. Despite the productivity gains from 'at home' work, there are still business activities that can't be performed 'from remote,' including the following: Face to face interactions to build trust between business partners Networking at industry events to form important business connections 'In room' intimacy for creative and ideation sessions Team building - working shoulder to shoulder with colleagues in an office to build esprit de corp Because these activities are critical to a business' success, we will need to find a balance between 'at home' work and 'face to face' time. But with companies shuttering offices, the new normal will likely involve more work from regional, satellite offices. This arrangement will help optimize the savings realized from reduced commute times and reduced office space with the opportunity for face to face interactions. New Challenges in the Post-Pandemic Digital Workplace There's no doubt that in this new Digital Workplace, people will continue to spend much of their time working independently and collaborating with colleagues remotely. Because communications with external parties like customers, suppliers, and partners will continue using email, telephone calls, and virtual meetings, workers will face two main challenges: Finding information – as communications spread across Outlook, SharePoint, OneDrive, and Teams, it becomes difficult to find information.  For example, a critical document could be stored in a SharePoint location, a Teams channel (and which one?), or in OneDrive. Important emails shared between colleagues and external partners like customers, suppliers, or partners are impossible to find unless they are stored in a centralized location, like SharePoint. Getting help from colleagues – sending a chat message to a colleague is easy, but getting help with a current business problem, like answering a customer's inquiry is more complicated. The reason is severalfold. First of all, your colleague probably needs to reference background documents and emails to weigh in. And finding those takes time. Which leads to the second problem: context. Answering a request for help necessitates leaving what we were doing and focusing on the new task. This task switching demands cognitive energy that saps productivity. The Secret to Productivity in the Post-Pandemic Digital Workplace The good news is that you already have what you need to deal with these two challenges; it is called Microsoft 365. Microsoft 365 includes many apps that address the problem of finding information and getting help from colleagues. If only there was a way to get them to work together? For example, when you communicate with a customer using Outlook email and then want to discuss the customer's questions with your colleagues, you need to switch over to Teams and re-orient yourself. The result is disconnected conversations that become difficult to follow.  How do you get Outlook and Teams to work together seamlessly, so you can find information when you need it AND reach out to colleagues in context, so you can remain productive?  To view the answer for yourself, I invite you to view this week's webinar entitled "The Role of Email in the Post-Pandemic Digital Workplace" that demonstrates a new streamlined user-experience for Microsoft 365 that enables 'at home' and 'in office' workers to be productive with Outlook, Teams, and SharePoint, by focusing on the business task at hand rather than toggling between tools looking for information and for help from colleagues.
January 2021 | harmon.ie Team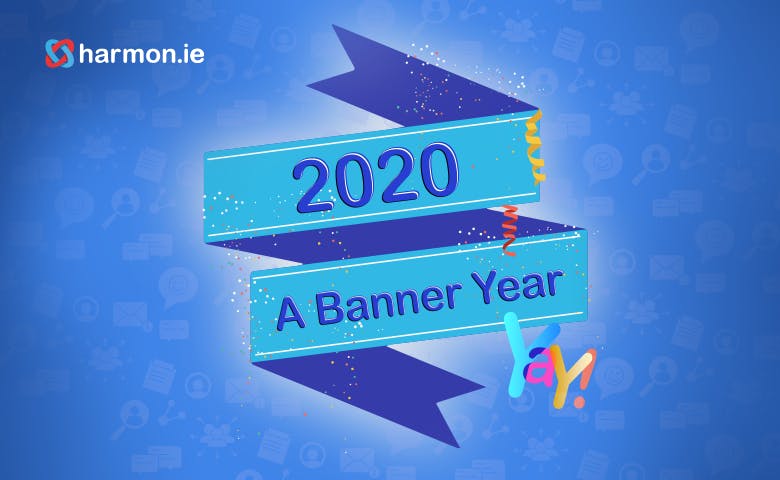 harmon.ie Announces 2020 Banner Year Results
With the onset of the COVID-19 pandemic early in the year, it was clear that 2020 would be markedly different than other years. But, like everyone else, we didn't know what to expect. The first thing to happen was a universal move to 'at home' work with the advent of COVID-19 lockdowns. Sheltering in place, information workers turned to Microsoft Teams in record numbers to connect to remote colleagues using virtual meetings. While keeping people connected, the shift to Teams introduced an unexpected consequence for workers who struggled to find information and get help while isolated from colleagues.  2020 at harmon.ie Because harmon.ie's products make it easy for information workers to collaborate using SharePoint, Teams, OneDrive, and Outlook, harmon.ie was uniquely positioned to help 'at home' information workers be productive with the Microsoft 365 tools at their disposal. As such, the company experienced a renaissance with the emergence of a new type of remote worker who needs to be productive with email, SharePoint, Teams, and OneDrive while isolated from colleagues.  The results speak for themselves… harmon.ie realized an impressive set of corporate achievements during the year: In addition to having a banner year in sales, harmon.ie preserved a customer retention rate of over 90% for the third year in a row, and signed an impressive set of new enterprise customers, including Camden Properties, the Israel Ministry of Defense, Environment Protection Authority Victoria (Australia), as well as a series of UK public sector agencies, such as the Financial Conduct Authority, the Office for National Statistics, with an expanded deployment at the Department for Business, Energy & Industrial Strategy.  In 2020, harmon.ie launched Email TeamMate™, a new Teams app designed to help remote workers get work done by seamlessly connecting Teams with Outlook. With Email TeamMate, 'at home' workers can now ask for help with email-based customer requests, directly in Teams conversations.   During the year, harmon.ie expanded its long-standing partnership with Microsoft. Already a Gold Developer Partner, in 2020 harmon.ie was selected as a Charter Member of the prestigious Microsoft 365 Content Services Partner Program, working together with Microsoft to help accelerate customer success with Microsoft 365 Content Services, powered by Microsoft 365, Project Cortex, SharePoint, and SharePoint Syntex. The program is geared to support partners delivering solutions that make the transformation of content management practical and attainable.   Looking Forward "As we start 2021, harmon.ie will continue to support our customers and partners on their journey to the Post-Pandemic Digital Workplace," says Yaacov Cohen, harmon.ie co-founder and CEO. "During 2021, harmon.ie will be releasing exciting new products to help workers working from home or satellite offices be even more productive with Microsoft 365." 
January 2021 | harmon.ie Team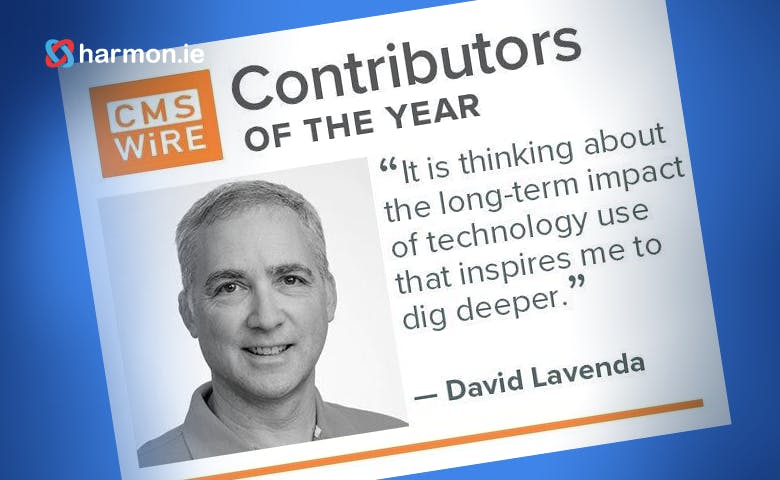 harmon.ie Chief Product Officer David Lavenda Named CMSwire Top Contributor
While toiling away designing harmon.ie's next generation products, harmon.ie Chief Product Officer, David Lavenda, somehow finds the time to share his insights on information-related topics facing tomorrow's business leaders. For his achievements, Lavenda has been recognized by CMSwire as a Contributor of the Year for 2020.  CMSWire is a leading press outlet that focuses on the digital customer experience, the modern digital workplace, and the latest big data and information management practices; it is read by over 3 million influential digital and marketing executives every month. Conferring the award, CMSwire managing editor Siobhan Fagan said, "David Lavenda is a one-man force working to make sure we learn from technology's past. An international scholar for the Society for the History of Technology, David brings this same perspective — as well as his knowledge gained from his 30-odd years in the technology industry — to bear for the early-stage technology companies he advises." Lavenda's 2020 articles explored timely information-related issues like 'work from home' challenges, how to get the most from new collaboration tools, and what is 'really behind' key Microsoft announcements. Some of his top articles for the year include the following: Why Salesforce Really Bought Slack SharePoint Syntex: The First Stop on the Road to Project Cortex What Positive Lessons Can We Take Away From Our Time Working From Home The Recent Spike in Collaboration Tool Adoption Doesn't Mean Productivity Spikes Too Microsoft's Project Cortex Wants You to Hire a Knowledge Manager A New Generation of Collaboration Tools: Is it Really Different This Time? "I am honored to be recognized by CMSwire as a 2020 Contributor of the Year," said Lavenda. "With the devastating changes in the workplace caused by the COVID pandemic, 2020 introduced many new challenges related to information management. I hope my articles helped people and organizations cope with the new reality." One of Lavenda's favorite topics is exploring what can be learned from experience with past information technologies, so we can better plan for the future. He is currently working on a project to explore the future of social media. As governments consider regulation, now is the time to ask, "is our current experience with social media different than past generations' experience with revolutionary information innovations like the printing press, the telegraph, the television, or the Internet?" This analysis is particularly timely because a similar process is playing out in the workplace, where 'at home' workers struggle to take advantage of new social networking technologies like Microsoft Teams. Have we been here before? What can we learn from the adoption pattern of past information innovations like email, the telephone, and even the fax, so we get it right this time? Insights from this research will be applied to building innovative products that help workers collaborate effectively… so they can be more productive wherever they work." In addition to his over 80 articles published in CMSwire, Lavenda has published over 200 articles in Fast Company, Business Week, VentureBeat, Entrepreneur, The Next Web, and other leading press outlets. 
January 2021 | harmon.ie Team