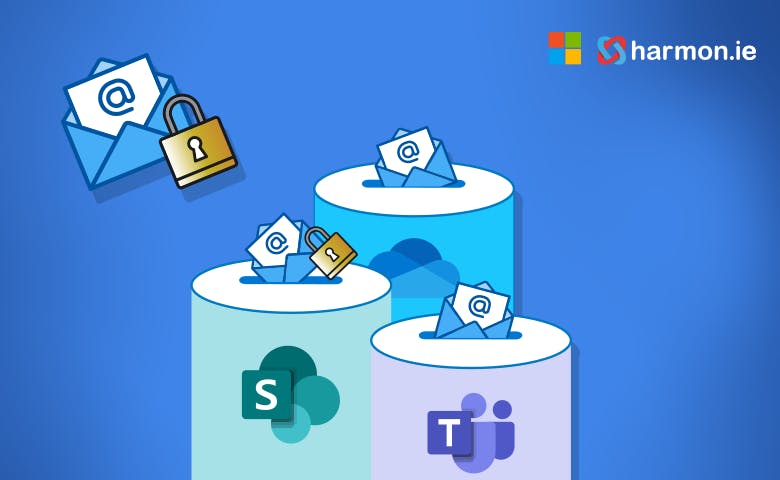 Conquering Information Chaos With Microsoft 365... and harmon.ie
Today's organizations receive a disappointing "C minus" for creating, capturing, and sharing information like emails and documents, according to a recent industry survey from the Association for Intelligent Information Management (AIIM). Much of the new "information chaos" is caused by the fragmentation of content storage because of an increasingly distributed work environment, brought on by last year's COVID lockdowns. To address information chaos, AIIM recommends "piggybacking information management initiatives on existing investments." And there isn't a bigger or more strategic investment to piggyback today than Microsoft 365. Over the last year, organizations have made massive investments in Microsoft 365, in part, to impart virtual meeting capabilities to remote workers through Microsoft Teams. During the recent lockdown, use of Teams skyrocketed from 13 million users in 2019 to 145 million users in April 2021. The drive to Teams was accompanied by a widespread migration to other Microsoft 365 apps as well, including SharePoint Online, OneDrive, and even Exchange Online.  While the introduction of new useful apps and services has been a boon to business, it has also introduced serious new challenges for information governance and compliance. At its core, Microsoft 365 is a set of apps and services, with many overlapping capabilities. Case in point; Microsoft 365 emails and documents may be stored in Outlook, SharePoint, OneDrive, and even Teams. And with many workers toiling away from home office 'silos,' it's anybody guess where emails and documents actually end up. The result?  'Information chaos.'  Gartner sums up the challenge in their recent "2021 Audit Plan Hot Spots Report":  "As organizations rapidly scale their remote work capabilities and deploy new technology, IT capacity is increasingly strained…  Organizations are still struggling to successfully implement and enforce data governance frameworks. As they accumulate new types of data and rely on fragmented storage systems, they are more exposed to regulatory, ethical, and data security risks."   Enforcing data governance Enforcing data governance is a problem, in part, because many emails are documents of record that need to be retained for compliance or regulation requirements. And with Microsoft 365, finding important emails and documents across SharePoint, OneDrive, Teams, and Outlook is a huge challenge… both for remote workers and for information and compliance managers.  So, while Microsoft 365 might be part of the problem, when used together with the new harmon.ie 365, it is also part of the solution… Because harmon.ie 365 makes it easy to capture, classify, and discover emails (and documents) across multiple Microsoft 365 apps; SharePoint, OneDrive, Teams, and Outlook. 
July 2021 | harmon.ie Team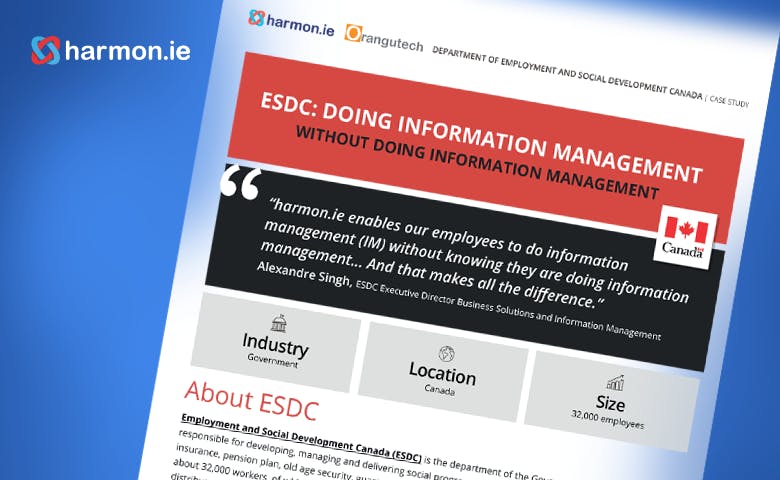 Employment and Social Development Canada (ESDC): Doing Information Management Without Doing Information Management, With harmon.ie
Employment and Social Development Canada (ESDC) distributes approximately C$120B to Canadians every year. To do this, ESDC employs about 32,000 people all across Canada. Prior to the COVID pandemic, ESDC used file shares and SharePoint 2010 for content storage. Use of SharePoint 2010 was voluntary. Then COVID hit, and mailboxes 'exploded' because people were sending attachments for work offline. ESDC needed a way to help its employees focus on work and collaborate effectively without making employees spend valuable time and effort on information management (IM). To provide a rapid and comprehensive remote work solution for employees, ESDC adopted Microsoft 365 for online meetings and document storage; with a goal of migrating an astonishing 30,000 employees to Microsoft 365 in just 3 months! To expedite Microsoft 365 adoption, ESDC needed a way to easily migrate content to Microsoft 365. Key requirements included the ability to capture, classify, and share important emails and document attachments with remote colleagues, eliminate 'document chaos' associated with sharing document attachments, and verify that people had access to a file before sharing it with them. harmon.ie to the Rescue ESDC selected harmon.ie to simplify employees' move to Microsoft 365. According to Alexandre Singh, ESDC Executive Director Business Solutions and Information Management, the partnership with harmon.ie "enables our employees to do information management without knowing they are doing information management... And that makes all the difference." The Future Singh explains the plans for harmon.ie at ESDC: Use harmon.ie to reduce mailbox size. "We plan to use harmon.ie to make it easy for people to take attachments out of Outlook and store them in the right spot… SharePoint." Use harmon.ie to move workers from shared drives to Microsoft 365 for content storage. "We see harmon.ie as a lever to migrate our existing user base, who are doing IM on shared drives to move to SharePoint Online. With harmon.ie, workers are able to drag and drop attachments into SharePoint Online." Use harmon.ie as an easy input for requirement metadata. "Metadata is what helps us with retention disposition. harmon.ie makes it easier for people to classify data correctly with pull-downs. When documents are classified correctly, it is easier to locate them later." Use harmon.ie to improve business processes. "We're seeing that we can re-engineer some of our administrative business processes where people have spent time consolidating documents. Now that links will be sent instead of attachments, they don't need to worry about managing the latest version of key documents."
July 2021 | harmon.ie Team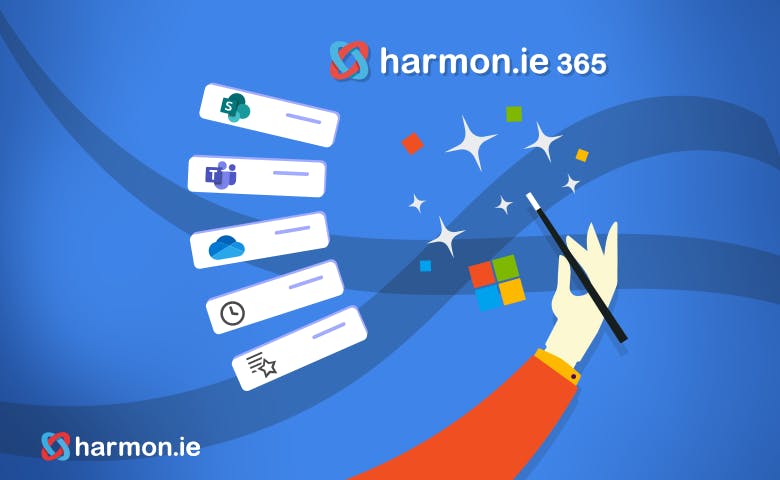 Migrating to Microsoft 365? harmon.ie Can Help!
If your organization isn't already on Microsoft 365, you are almost certainly considering the move.   Either way, you know the move involves many considerations, including migrating content, handling permissions, instituting governance policies… and many more. And let's not forget the need to map and migrate on-premises SharePoint site URLs to new SharePoint Online URLs. Note that changing those URLs will also require you to update your harmon.ie sites and 'favorites' links. If you are wondering, "How do I do that?" – don't worry. We've got you covered…  As part of the recent harmon.ie 365 rollout, we included a brand new sites and 'favorites' URL migration tool that makes this process simple… and scalable. So simple that it has already been used to effortlessly migrate customers with many hundreds of thousands of SharePoint URLs. How Does It Work? The harmon.ie migration tool automatically replaces the URLs of SharePoint sites and favorites defined in harmon.ie, from your old on-premises URLs to your new Microsoft 365 URLs. This process is completely transparent to users, so they start working with the new environment without manually configuring sites and favorites. The entire process is completed in the following, three simple steps: Create a mapping table between SharePoint on-premises and Microsoft 365 URLs. This is an Excel sheet with the on-premises URL in one column and the corresponding Microsoft 365 URL in the second column. Provision a Microsoft 365 site to all users and set it as the social server, using harmon.ie registry keys. Provision harmon.ie migration registry keys. That's it! Now, instruct all your users to restart Outlook and the migration process automatically commences. It is hard to overstate how much time and troubleshooting effort is eliminated with this tool. Want to get started? Get all the details in our knowledge base article, Migrate SharePoint on-premises sites and favorites to Microsoft 365.
June 2021 | harmon.ie Team