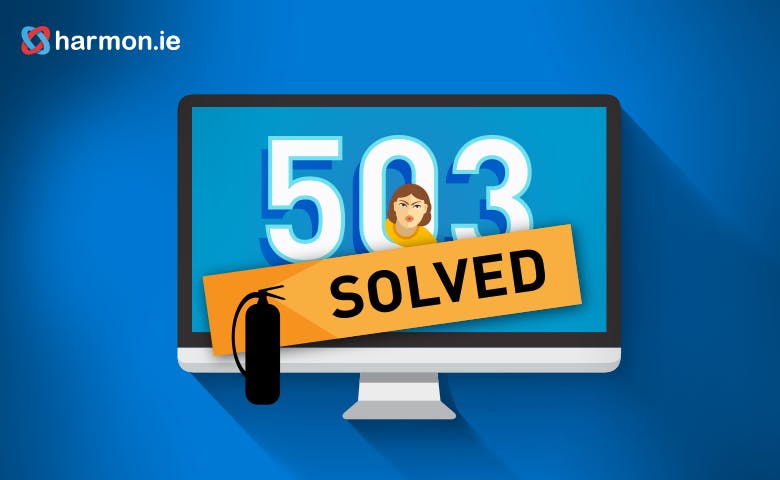 harmon.ie Partners with Customers to Answer the 503 Alarm Bell
Solidarity in Time of Crisis Desperate times call for desperate measures. At the time of posting, most of us will be working from home, 'sheltering in place,' or 'self-quarantining' or simply trying to stay safe from the COVID-19 virus pandemic. And it's not just workers who need to get used to working from the kitchen table or huddling with colleagues several times a day via Microsoft Teams or Zoom. The change in Internet traffic patterns is also wreaking havoc on service providers. Case in point; both YouTube and Netflix are temporarily reducing video quality around the world to reduce network traffic that is growing faster than the number of infected Corona victims. Internet traffic is increasing because as people work from home, traffic patterns are vastly different than during normal times. And it's not just YouTube and Netflix experiencing problems, it's also e-learning and collaboration services, like Microsoft Teams. In fact, Teams experienced outages in Europe a few weeks ago. Even with Teams back up and running, customers, primarily in Europe, have been experiencing "503 Server is busy" errors due to stressed resources.  A number of harmon.ie customers in Europe who were experiencing 503 errors reached out to the harmon.ie Support Team with an urgent request for help. As more and more people were working from home, the load on Office 365 servers increased and more and more users were experiencing the "503 Server is busy" error and couldn't access their documents and emails residing on SharePoint. As harmon.ie enables knowledge workers to access SharePoint documents and Teams conversations directly from Outlook, where they already spend their worktime, the ability to continue working at home like in the office is key to being productive. So, when folks started experiencing 503 errors, their frustration skyrocketed as their productivity plummeted. Not to worry. The harmon.ie team was on the case. Members of the response team, working from the safety of their own homes, diagnosed the problem and quickly devised a resolution. However, it was impossible to recreate the overload on Office 365 servers from harmon.ie labs, as the 503 error only occurred in Europe. The harmon.ie QA team suggested to partner with customers to work together to test and validate the fix. Working hand in glove with our customers during these difficult times, the fix was quickly tested, validated and released to our European installed base. Within a few days of receiving the initial support request, customers were back in full swing. Gratified customers were quick to weigh in. "We were happily surprised by harmon.ie's quick resolution to the 503 error we experienced when accessing SharePoint Online. Especially in these challenging times of working from home, we appreciate our partnership with harmon.ie to create a productive work environment." D.W. ,IT Supporter, Large Construction Company "In these difficult times of remote working, we sometimes experience unconventional challenges. One of them was a 503 error when trying to access SharePoint Online. When we notified the harmon.ie Support Team, the response was quick. Working together with harmon.ie, we had a resolution within days and we were back up and running.  It is during times like this that we truly appreciate our partnership with harmon.ie. S.H., European Scientific Research Organization  "We received a quick resolution to the 503 error we experienced when accessing SharePoint Online. Working with harmon.ie, we were able to solve this problem quickly and get back to work." James Azzopardi, PwC This experience demonstrates the partnership that exists between harmon.ie and our customers. In these difficult times, we can work together and help each other create the most productive and safe environment possible. To this end, next week we are hosting a webinar entitled Strategies for Remote Working with Microsoft Teams. Register here. If you are experiencing the 503 problem with SharePoint, you can get the fix from harmon.ie Support; it will also be built into the upcoming 8.1 release, which will be available in mid-April 2020. In difficult, as in normal times, the harmon.ie team is here to support you. Stay productive and stay safe!
March 2020 | harmon.ie Team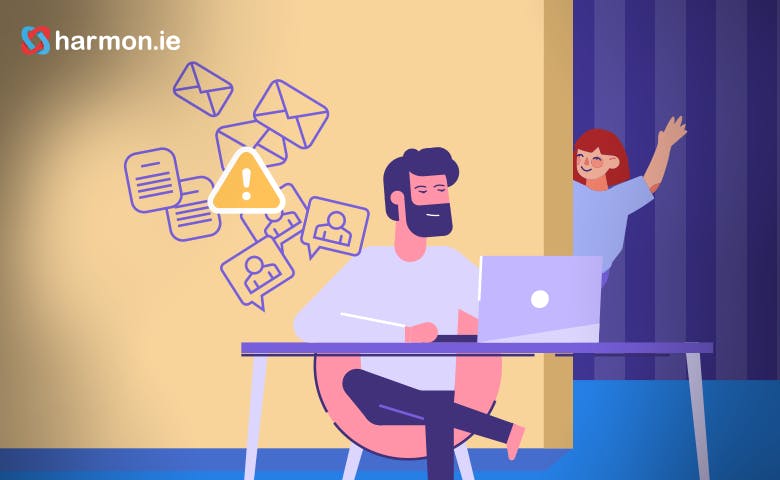 Is Microsoft Teams the (Only) Solution to Working at Home?
We are all working from home these days and the tools for remote working are a godsend. People are using Zoom, Google Hangouts, Slack, and of course, Microsoft Teams. For many businesses, Microsoft Teams is closing the distance between us by enabling real-time collaboration via audio and video calls with colleagues. Some of us are even using Teams to set up meetings with external parties like customers, suppliers, and partners. And it works great (usually… note the outage in Europe last week). But as we scramble to stay on top of business from home (with considerable background noise from the kids and other family members), it is important to remember that there is more to getting work done than speaking to colleagues via video calls and virtual conferences. Some of us are chatting with colleagues using Teams conversations.  Email is also playing a critical role in connecting us to other folks, both inside and outside the organization.  And almost everyone is working with documents to further normal business for things like contracts, proposals, project plans, engineering diagrams, and emergency business continuity. And here lies one of the biggest problems we are dealing with today. Workers Need to Be Self-Sufficient Working from home puts people on a virtual island. You can't just walk down the hall and ask a colleague where they stored the latest version of the contract we are working on and you can't huddle the team around the water cooler to do a quick sync on the latest project. On our virtual work island, we need to be self-sufficient. What that means for a lot of folks is making sure they have all the documents and resources at the tip of their fingers.  With all the stress of working from home, people don't want the added burden of having to spend valuable time searching for documents, especially if they can't be sure these will be the latest versions. No Man is a (Virtual) Island The solution for many remote workers is to hoard information on the local drive of their home computer or work laptop. Everyone has their own copy of the 'truth' and that works…. until it doesn't. When contracts need to be reviewed and proposals need to be updated, what ensues is document chaos; the kind of chaos that is not only unproductive, it can be catastrophic when incorrect versions of documents are sent to customers and suppliers. These documents often contain corporate commitments; you just can't afford to drop the ball. What Can You Do? The solution to this problem is creating order out of chaos using the Microsoft tools you already have. This involves invoking some simple business processes and making it easy for people to do the right thing. First of all, you need to make sure that instead of hoarding documents on local drives, everything that colleagues need to access is stored in a centralized location. Then, content has to be classified correctly so others can find it easily. But this is easier said than done. People are in a hurry and all this storing and classifying takes time.The key is making this process transparent and simple enough so that everyone will do it. It sounds complicated and it can be, but harmon.ie makes this simple for even the most technophobic worker on your team.
March 2020 | harmon.ie Team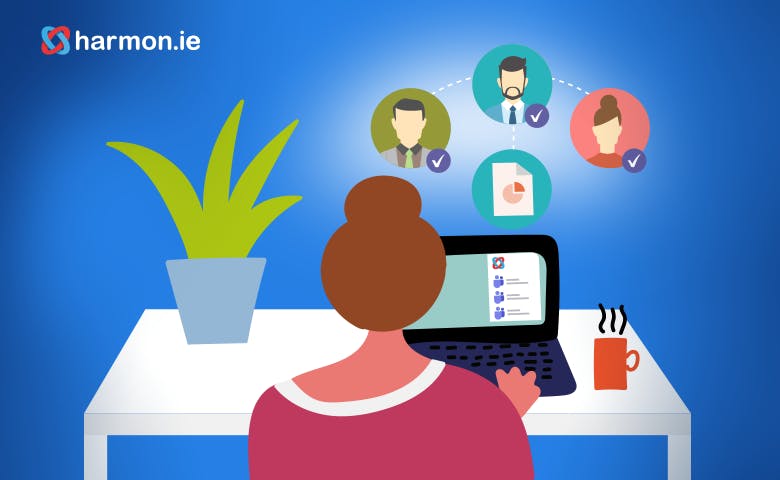 Working from Home? harmon.ie SmartAssistant™ Is a Critical Part of Your Remote Collaboration Suite
In today's environment, when people are working increasingly from home, it is more important than ever to make sure everyone in your company is on the same page. With so many options to communicate with colleagues, it is easy to drop the ball. For example, you have Outlook, SharePoint, and now Teams to share content, so it is very easy for business information to become fragmented across multiple apps. Once fragmented, it is virtually impossible to piece together to see the big picture. And now, with so many people working remotely, it is even harder to stay on track. That's why you need harmon.ie SmartAssistant™ more than ever.  SmartAssistant is the world's first product to link an organization's internal staff conversations and external communications in Office 365, by intelligently connecting emails, documents, and conversations in Teams. SmartAssistant offers the following capabilities: Drag and drop emails and attachments from Outlook directly to a Teams channel, which saves the email to the Team's mailbox or SharePoint location and saves the attachments to the channel's underlying SharePoint files location. Seamless Outlook/Teams transitions: After dragging and dropping content to a Teams channel, you can post the files to your team in an Adaptive Card and continue the conversation in the Teams app. Metadata: When copying emails and attachments to Teams channels, users are prompted to apply metadata to SharePoint documents, as well as to emails.  Using metadata, related emails and attachments remain connected. harmon.ie "Teams" Outlook tab: displays all emails and attachments copied to Teams, directly in the Outlook sidebar. Users can then: o   Display emails and attachments previously added to the conversation from harmon.ie. o   Filter the list of emails by team or channel. o   View and edit emails and attachments using their native app (e.g. Word, PowerPoint, Excel). o   Notify team members about a saved email and/or attachment. Display favorite Teams and channels directly in the harmon.ie "Favorites" view. You can also drag and drop emails, attachments, and documents onto a drop target in the harmon.ie Favorites view.
March 2020 | harmon.ie Team